Advantages And Disadvantages Of Blended Learning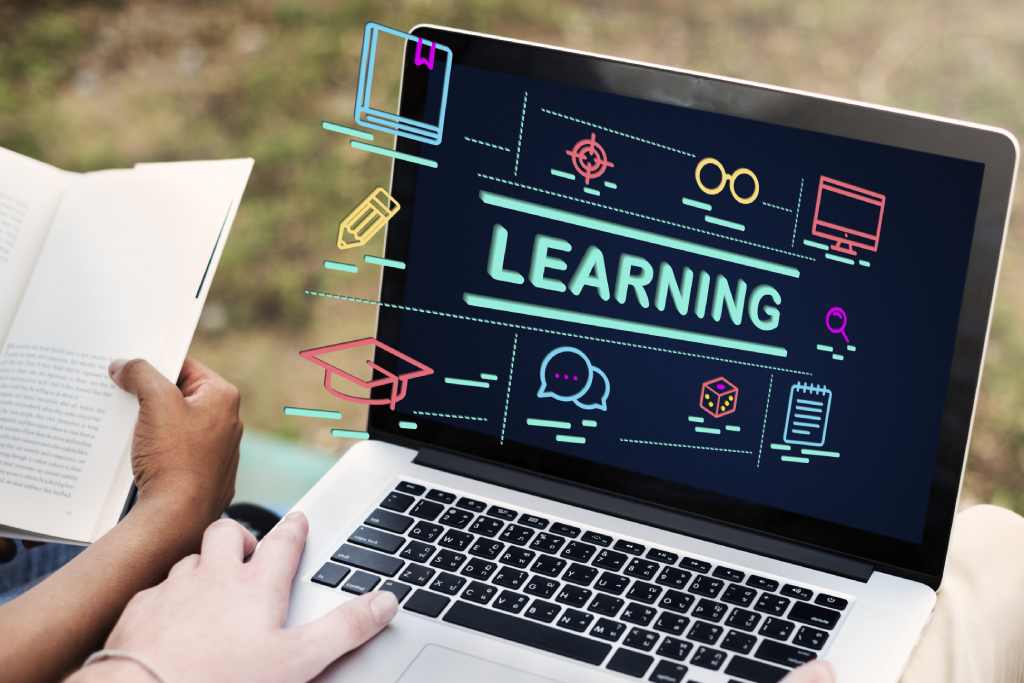 Blended learning are learning formats that only became possible with the digital transformation. You can read in detail what is meant by blended learning and how diverse the possible applications are in our recently published blog post " What is meant by blended learning " . Today we would like to take a closer look at the advantages and disadvantages of blended learning for you.
Blended Learning Briefly Explained
In a nutshell, blended learning is a mixture of face-to-face and online learning opportunities. At the same time, the explosiveness lies in the word mixture: What does the optimal mixture look like? How much e-learning and how much face-to-face teaching can there be proportionately among the learning opportunities? In what rhythm do online learning phases and face-to-face phases ideally alternate, i.e. classic teacher/student lessons? As with a good meal, the secret of success, i.e. optimal learning success, lies in the right recipe.
Benefits Of E-learning
Learning in front of the screen, at home or at work, offers the learner a number of advantages: The learning pace can be determined freely, you can repeat the material at your own pace as often as you like until everything is understood. Learning place and time hardly play a role. Depending on how the learning content has been prepared, the learner can read it, listen to it and/or watch videos, so that every type of learner is addressed in a way that is appropriate for him. It is known from didactics and learning psychology that learning effectiveness can be increased by using the correct perception channel of the learner when imparting knowledge (optical/visual, auditory, haptic, cognitive learner type) is addressed. For companies that train many employees, e-learning can be a cost-effective alternative to in-house training, external training or other face-to-face teaching offers.
Disadvantages Of E-learning
If the learning content is not well prepared, i.e. boring, the learner's motivation will quickly drop. In any case, they must have a high degree of self-discipline, especially in the case of self-directed e-learning. Distractions from external factors such as work colleagues or family, ringing phone, incoming emails, etc. are to be expected. If questions arise that are not answered by the learning program, the learner often remains without an answer.
The learner must have a high level of personal responsibility and motivation in order to acquire knowledge without the supportive teacher/trainer. The technology also plays an important role: how well does the internet connection work, how well is the online learning platform structured? For formats based on live e-learning, course instructors or lecturers should have high media didactic skills that go beyond purely technical skills. Where learners and lecturers come together in so-called virtual classrooms for webinars or similar, it is not least the software that determines how interactive the lessons are structured.
Also Read: Education And Technology Have A Pending Task
Advantages And Disadvantages Of Face-To-Face Teaching
Classroom teaching, i.e. classic face-to-face teaching, offers the great advantage of direct interaction and communication between learners and teachers. The learners' social skills are strengthened, and a feeling of togetherness can develop more quickly. The teaching format can be changed ad hoc, e.g. B. from frontal teaching to group work. However, different prior knowledge of the learners can slow down the common learning pace. Another disadvantage is certainly that the weaknesses of individuals come to light more quickly and there is a fear of being exposed to fellow learners. The lessons are tied to time and place, there are costs for travel, room rental, etc.
Classroom Teaching And Online Learning: The Perfect Symbiosis?
The digital transformation makes it possible! It is obvious that the right mix of e-learning and face-to-face teaching can lead to completely new types of learning success. Building on the fact that modern people are lifelong learners and that the continuous further training of employees is an important growth factor in companies, the aim now is to leverage the potential. It depends on the context in which blended learning is to be used, whether in professional development, at universities, technical colleges, schools or other educational institutions. The decisive factor will always be how well the content, i.e. the learning content, is structured. Clocking also plays a role: After a phase of self-determined e-learning, an attendance phase must follow in good time to provide space for open questions and social interaction. Overall, the learner should ideally be offered a well-rounded, coherent, motivating, enriching and competence-enhancing learning experience.