Hybrid Meeting – The Conference Of The Future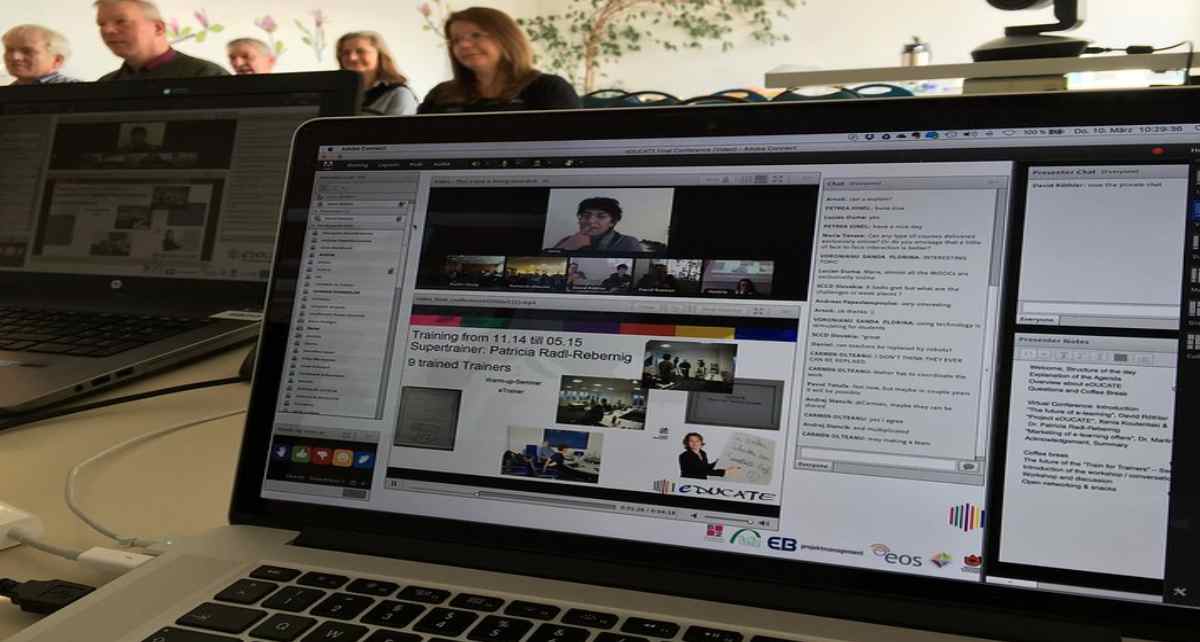 A Mix Of Virtual Conference & Face-To-Face Meeting
Many teams only work part-time from the office – popular workplaces are the home office or working at any location (so -called remote work ). We are happy to switch between the places of work. Employers are increasingly offering employees the opportunity to decide for themselves whether the working day begins in the office or at home. The key concept is: working hybrid.
Hybrid Working Is The Challenge Of The Modern Working World
Successful hybrid work models or hybrid project management are now regarded as the magic formula for efficient and productive work and are very trendy. At the same time, they are the challenge of the modern working world. In order for hybrid work to work, it is important to combine employees in the office and home office – despite the physical distance. This includes above all joint coordination, so -called hybrid meetings.
At the beginning of the corona pandemic, pure virtual collaboration was the main requirement, but hybrid formats have now come to the fore. But what are hybrid meetings anyway? What disruptive factors need to be eliminated? What is necessary to enable hybrid meeting formats and thus avoid a "two-class conference"?
1. What Is A Hybrid Meeting?
Definition: A hybrid meeting – sometimes also referred to as a hybrid or mixed-mode conference or hybrid session – describes a meeting in which participants are on site (in the office or conference room ) on the one hand and other people join in digitally on the other who work either from their home office or remotely.
This concept differs significantly from pure video or telephone conferences . For these semi-virtual conferences, a new type of planning, preparation and implementation is necessary so that these meetings can also take place efficiently and successfully.
Hybrid Meetings Will Take Place More And More Frequently In The Future
The corona pandemic was the first trigger for hybrid working models – in the future, too, the choice of workplace or location will increasingly be an option. At the same time, this means that hybrid meetings are increasingly finding a place in everyday work. Even if not everyone is sitting together in the meeting room, a meeting is still possible by combining traditional meetings with the approach of virtual conferences.
2. Challenges Of A Hybrid Meeting
Hybrid meetings have the advantage that employees who work outside the office can still participate in a face-to-face meeting. However, this new form of cooperation results in a number of difficulties and challenges that are less relevant to a purely on-site or online meeting.
Typical problems with hybrid meetings
Technical requirements are not given
No equal, fluid discussion between on-site and remote participants
Virtual participants do not have an overview of all participants – and vice versa
Distractions from background noise
Lack of focus on the meeting itself
Implementation Challenges
Difficulties arise, for example, from a lack of technical equipment . Of course, many companies now offer their employees a laptop so that they can also work outside the office. A laptop alone is not enough for a functioning hybrid meeting. And most meeting rooms are certainly not designed for such conferences.
In addition to a projector for image transmission, the equipment in a "hybrid meeting room" should also consist of a camera in the room that captures the participants on site. In this way , virtual participants also have the opportunity to keep an eye on what is happening on site.
In addition, special microphones and loudspeakers are useful so that all employees can be understood equally well. This makes it easier for all participants to actively participate in a discussion.
3. Five Tips For Hybrid Meetings
If the implementation of a hybrid meeting now seems impossible to you, we have a few tips for planning and preparing the meeting in the best possible way and avoiding typical mistakes . Because questions like "Does the meeting software work? Are speakers and microphones connected? Is there stable internet connectivity ? Do stakeholders have all documents available?" should ideally be clarified before the conference.
Check Technology Before The Meeting
A solid technique is the basis for a mixed meeting . It is important to consider whether such meetings should become the standard and whether it is worth investing in the right equipment , or whether these meetings are more of an exception. The implementation of the hybrid meeting format is more demanding than the purely analogue or purely digital format. It is important to create the simplest possible communication between the participants in the room and those connected online.
If the microphone suddenly fails at the start of a meeting, time is wasted unnecessarily. In advance, it should therefore be checked in good time whether the technology works – this includes not only the hardware but also the meeting software used. Meeting software providers are, for example, Zoom, Google Meet, Jitsi or Teams. In advance, of course, all participants should be informed about which tools are used.
Conduct Professional Moderation
A professional moderator ensures that all participants are integrated into the conversation . Virtual participants in particular are usually (accidentally) excluded and have fewer opportunities to draw attention to themselves.
Distribute Relevant Documents Before The Meeting
Key information and metrics should be available to all participants. For working together, this works, for example, in project management software where documents of the respective task are linked or attached.
Keep Meeting Minutes
As in standard meetings, minutes should not be missing in hybrid meetings either: Agenda, discussions, responsibilities, deadlines and necessary measures must be recorded. Should there still be interruptions – for example due to a bad Internet connection – those who have been switched on can read up on missed information afterwards. It is particularly easy for everyone involved if the notes are directly related to the appropriate task.
Clarify Role Allocation
Who is the right contact person when the technology goes on strike? Who keeps track of the time? Who prepares the log? A clear division of roles helps – as in classic meetings – with a successful implementation. The difference: in addition to the moderator and note- taker , other roles such as technical support or buddies in the meeting room , who can represent colleagues from the home office, are added.
After a meeting, there should always be an opportunity to give feedback . what went well What can be improved? This is the only way teams can continuously improve in this new type of meeting.
4. Conclusion – Without A Plan And Strategy, There Will Be Chaos In Meetings
In the future, hybrid events will be an integral part of everyday work. Due to the regular change between office and home office or desired workplace , hybrid meetings are becoming more and more relevant. Without proper preparation, these meetings or information events cannot succeed.
Also Read: Cutting Costs With Technology